A very enjoyable weekend, and not just because the Red Sox took all 3 games from the Yankees at the Stadium.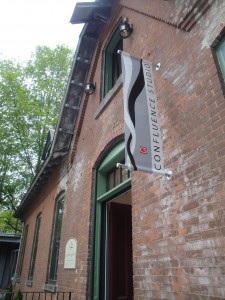 Friday evening I attended two very fun functions.  The first was an open house at Confluence Studio in Higganum, CT.  Friend Bill Cowan and his Architectural Workshop invited me; they're just one of the design and artistry firms located in what used to be part of the old Scovil hoe and plow factory.   Now it's an incubator of inspiration, 'the space for ideas to converge' as they put it.  The concept of shared workspaces is, indeed, really catching on.
A large enthusiastic crowd threaded through spaces dedicated to art, architecture, woodworking, landscape design and more; unfortunately I couldn't stay as long as I wished.  But I was headed to the Middlesex Community College Arts & Media Festival.
It was nice to visit my alma mater and see what the students were up to in all sorts of disciplines – art, writing, and of course video and multi-media.
Amazing what someone just venturing into the field can do now, compared to what we chiseled out of 3/4-inch umatic tapes back in the day.  I had a nice conversation with some of my former professors and enjoyed the students' work.  Yes, some of it had flaws, but that only means they're learning, right?  Same as the rest of us.  Now I gotta figure out the rest of this WordPress stuff.